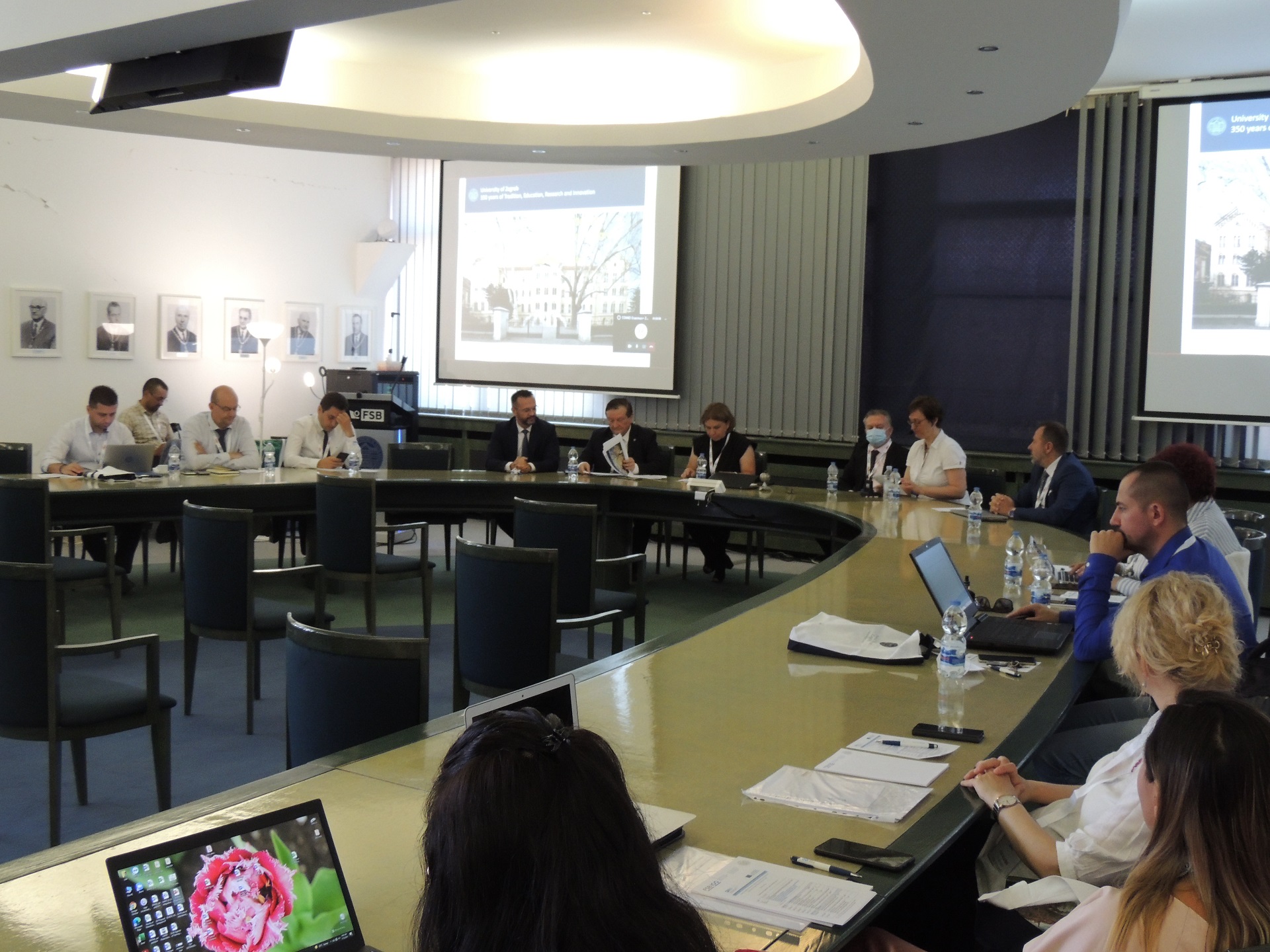 16 Jul

Workshop on Financial and Academic University Autonomy in Zagreb

A two-day workshop on Financial and Academic University Autonomy took place in Croatia, University of Zagreb, Faculty of Mechanical Engineering and Novel Architecture, on 15 and 16 July 2021 within WP3 of the project.

The event was opened by the rector of the University of Zagreb, Prof. Dr. Damir Boras, who welcomed all the participants to a workshop, introducing them to the structure, financial resources and management practices of financial autonomy of the hosting institution. The University of Zagreb and the project participants were pleased to welcome His Excellency, the Ambassador of Kosovo to Zagreb, Mr. Gezim Kasapolli, gracing the event with his presence as a Guest of Honour. During the opening ceremony, he gave a speech, expressing thankfulness to the host institution, the University of Zagreb, for their continuous support, cooperation, and hospitality, expressing his hopes for a good exchange of practices between countries in the project consortium.

This workshop included participation from esteemed individuals with experience in University autonomy from European Union and their Western Balkans counterparts, on the interest in (1) the organizational and financial autonomy aspects in EU partner countries; (2) ways to maintain and organize a robust financial structure in partner EU Higher Education Institutions; 3) State of play of financial autonomy in the EU partner countries HEIs, (4) State of play of financial autonomy in the WB partner countries and (5) STAND project's Quality Assurance.

The workshop was a combination of presentations, facilitating the exchange of opinion, exercises, and share of results that will significantly contribute to the Western Balkans partners to have a clearer picture of how the financial and academic autonomy management should operate and further best practice application at their institutions.

The program country partners – European University Association (EUA), University of Zagreb, Hamburg University of Technology (TUHH), University of Foggia, and South East University (North Macedonia) shared their financial and academic autonomy experience with Western Balkans partner universities, challenges, and thoughts on how to overcome those, leveraging existing expertise within their institutions. The application of financial and academic autonomy has been recognized as a priority for effective HEI capacity building, fostering the discussion and linking emerging questions with other areas of university autonomy.

One of the STAND project objectives was to develop and establish networking opportunities between the European HEIs and their Western Balkans counterparts and integrate lessons learned and best practices into WB HEIs governance models, management structures, decision-making procedures, and policies.